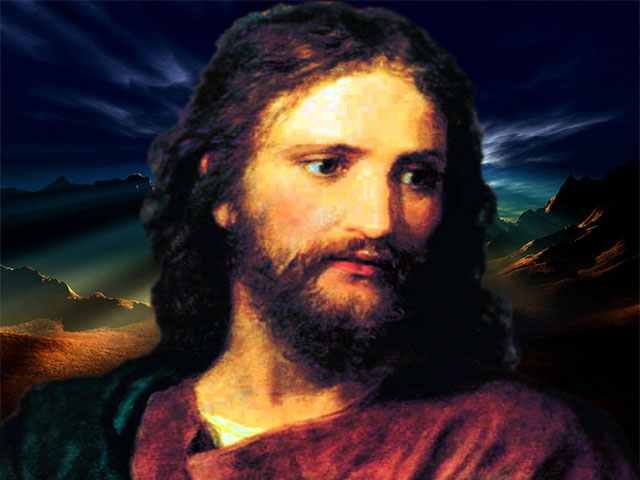 (Photo credit: Photo Bucket/babygirl4228)
The Old Testament even refers to Jesus, and also makes it clear that He IS God.
Isaiah 7:14 Therefore the Lord himself will give you a sign: The virgin will be with child and will give birth to a son, and will call him Immanuel.
Isaiah clearly was prophesying the coming of Jesus. The matching New Testament passage is Matthew 1:23
Isaiah 9:6 For to us a child is born, to us a son is given, and the government will be on his shoulders. And he will be called Wonderful Counselor, Mighty God, Everlasting Father, Prince of Peace.
Daniel 7:13-14 "In my vision at night I looked, and there before me was one like a son of man, coming with the clouds of heaven. He approached the Ancient of Days and was led into his presence. 14 He was given authority, glory and sovereign power; all peoples, nations and men of every language worshiped him. His dominion is an everlasting dominion that will not pass away, and his kingdom is one that will never be destroyed.
Son of man was Jesus favorite self-designation. The person spoken of here is given authority, he is also given glory…God shares His glory with no one. The person in this passage is also given sovereign power, the key word here is sovereign NO one but God possesses sovereign power. To be sovereign is to be over and above all; therefore this verse is saying that nothing and no one can surpass the power of the son of man. All peoples and nations will worship him, and his kingdom will never pass away. This could only be referring to Jesus Christ, the Father was already mentioned, (Ancient of Days) and God the Father is not giving these things to Himself! Let us not forget the phrase "coming with the clouds of heaven", Jesus used this phrase Himself…Mark 14:62 "I am," said Jesus. "And you will see the Son of Man sitting at the right hand of the Mighty One and coming on the clouds of heaven."
John 1:10 He was in the world, and though the world was made through him, the world did not recognize him. In John 1:1 we see that Jesus, the Word, was and is God. Now this verse is saying that although Jesus was here in the world, this world did not recognize its' Creator.
John 1:12 Yet to all who received him, to those who believed in his name, he gave the right to become children of God Yet another verse that speaks to the fact that belief in Jesus Name and accepting Him as Lord leads to salvation.
John 1:17 tells us that grace and truth came through Jesus Christ. Ephesians 2:8-9 tells us that we are saved by grace…which came through Jesus.
John 1:18 No one has ever seen God, but God the One and Only, who is at the Father's side, has made him known. In verse fourteen, Jesus is referred to as the One and Only, who came from the Father full of grace and truth. Jesus came to earth, and made the Father known to us. He also made the Father approachable through His intercession for us.
In John 20:27-29 the disciple Thomas refers to Jesus as "my Lord and my God", when Jesus appears to him and the other disciples after the resurrection.
In the first chapter of John alone we are literally bombarded with the knowledge that Jesus is God. As the heavens declare the glory of God, the book of John declares the divinity of Christ. All the mental gymnastics that some go through to disprove that Jesus is God are just ridiculous. The whole book of John needs to be read together to achieve the full contextual meaning. Chapter one alone is full of meaning and knowledge.
In Matthew 18:19-20 Jesus says that when two or three of us ask for something in His (Jesus) name, it will be done for us by His Father.
In Titus 2:13-14 the Apostle Paul refers to Jesus as our God and Savior.
Revelation 5:13-14 Then I heard every creature in heaven and on earth and under the earth and on the sea, and all that is in them, singing: "To him who sits on the throne and to the Lamb be praise and honor and glory and power, for ever and ever!" 14 The four living creatures said, "Amen," and the elders fell down and worshiped.
And to the Lamb be praise, honor, glory, and power. The Lamb is Jesus as stated by John the Baptist in John 1:29. As I said previously, God shares His glory with no one, so the Lamb of God (who is Jesus) must be God Himself.
Do you know Jesus as Lord and Savior? Would you like to? The only way to heaven is through Jesus Christ. No other religion, and no other god or person or whatever can lead you to heaven and eternal life. Eternal life is found only within Christ and no one else.
If you are ready to make a commitment to Christ, then go to this site (Peace with God) and simply read and follow what you are asked to do. If you have any interest in being forgiven your sins, and you would like to make a change in your life, even if you are not sure yet, I urge you…do not wait!! There is more information on the web site I listed for you.
2 Corinthians 6:1-2 says As God's fellow workers we urge you not to receive God's grace in vain. 2 For he says, "In the time of my favor I heard you, and in the day of salvation I helped you." I tell you, now is the time of God's favor, now is the day of salvation.
Give your life over to Christ today, don't wait another moment, today…might be your last day. After death, there is no chance to change your mind about your eternal destination.
I want to share with you who are reading this a short thought about today being the day for salvation. A short time ago, my brother-in-law went out for a motorcycle ride on a beautiful summer day. He did not come back; he was killed…just like that. You never know when your last day here will be…do not chance it. Commit yourself to Christ today while you can.
1 John 5:13 I write these things to you who believe in the name of the Son of God so that you may know that you have eternal life.
About the author: Greg is a strong believer in Jesus Christ and is also a political analyst, author, and is the Editor-in-Chief for the National War Council. By day he is a self-employed non-emergency medical transport driver, as well as being an author and blogger.  His articles are first published on Inspirational Christian Blogs, and I Am Not Ashamed of the Gospel of Christ! From there the articles are widely published on many well-known conservative websites.  If you would like to republish his articles, please feel free to do so leaving all links intact and crediting the author and the website that the article appeared on.
Greg is the author of the newly released book: Spiritual Darkness is Destroying America and the Church
---
---
Categories: EVANGELISM, THE WORD OF GOD FOR TODAY